Background
The stakeholders introduce themselves

Grit Wagner-Strohn and Michael Strohn

We both enjoy dreaming at atlases - and at the beginning of 2009 we succeeded once again in fulfilling our dreams.

We are: Grit Wagner-Strohn, Head of Administration, married to Michael Strohn, Dipl.-Verwaltungsbetriebswirt, Consultant for Railway Operations and Planning of Rail Infrastructure.

Starting point was a railway project
Similarly to other African landlocked countries, Malawi's economy suffers from absurdly high transport costs. This is due to the huge distances to the sea ports and the trade partners - in particular South Africa - but also insufficient transport infrastructure. Three months technical assistance for the railways in the framework of an EU project was part of a corresponding approach. Accordingly, on 7th February 2009 we took the plane to Malawi.

Kumbali Lodge
As is so often the case in foreign business, travel arrangements had to be done last-minute, and all hotels in Malawi's capital Lilongwe were fully booked. Therefore, together with our colleague Hartmut Margner and his wife Yuli, we had to go round to Kumbali Lodge situated 8 km outside the city at the

Nature's Gift

permaculture farm. This turned out a lucky coincidence - we were thrilled. The overwhelming hospitality, the tranquility far off any traffic, the unobstructed view across the infinite width of Africa, not hindered through any walls or fences, all that made us feel good, and we decided to stay permanently.

From the very beginning, Grit intended to give her stay in Malawi a specific meaning through volunteer work. After some unsuccessful enquiries with international organisations and subsequent to a journey to Blantyre required for the railway project, she succeeded with the help of Guy Pickering, the owner of

Nature's Gift

, and his partner Scott Gray.

The village
In fact there are two villages extending on both sides of the road: Canada Camp and Landscape. Both owe their existence to a good part to

Nature's Gift

, with about 400 employees the most important employer.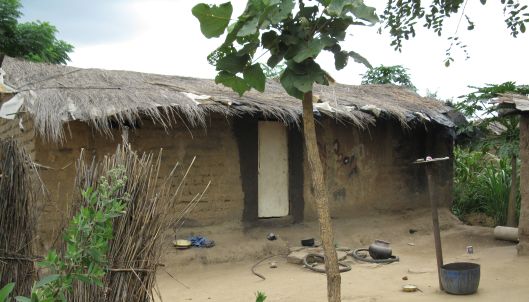 The villagers live in simple huts made from air-dried bricks with thatched roofs. There is no electricity; water must be fetched from wells. Laundry is done at the river, cooking on small fires burning with wood or shucked maize cobs.
The school
The village school operated until July 2010 was a "kindergarten school", a combination of nursery and first and second class primary school. The school had been built by a Canadian organisation as single-storey building with three classrooms and a small office. Three teachers were in charge of about 120 children, out of this 10 thru 15 in the second and 40 in the first class.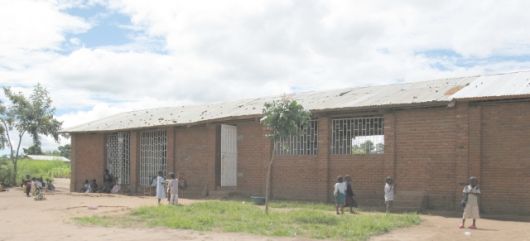 Of course there was no electricity in the school, too, and water had to be lugged in buckets. This usually happened only once a week for the cleaning. The toilette was operated "dryly"; in the nursery the kids often just discharged on the floor.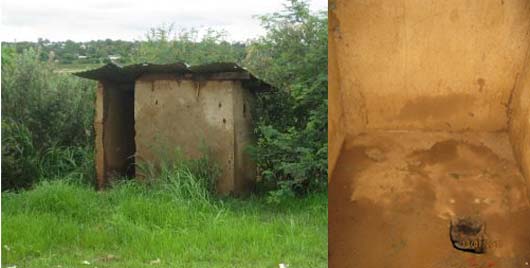 The parents payed minor school fees covering the personnel costs but no school materials not to talk about investments. The children could also visit a government school at no charge that is further away. But in view of the ideal position within the village and the more individual care many parents preferred "their" school in spite of the costs. The better part of children whose families could not afford the school fees did not attend a school at all.

On 16th February 2009 the moment finally came - Grit's first working day as volunteer teacher for English and Math. During the following days and weeks a very close relationship to teachers and children emerged. Later, Yuli joined Grit at school during her somewhat shorter stay. Books and school materials procured by Grit and Yuli contributed to the efficiency - hitherto teacher and children had shared one book. Plays, singing, painting lessons with paint boxes brought in from Germany and a school party provided relaxation and variety.




When Grit had to set off on her back journey on 1st May 2009 she was virtually part of the inventory, and it was a sad parting - but it included the promise to return.

Second journey
Grit fulfilled her promise. In January 2010 she disembarked again at Lilongwe - this time on her own and packed with children's wear outgrown by our grandchildren. This time, Grit was the headmaster's guest and stayed in the village. All enjoyed seeing each other again, but there was also sad news. For various reasons, the school could not be operated any more and had to close down in summer 2010.

The idea
Naturally the problem was extensively discussed with the Pickering family being close friends of us. There was no doubt that the village still needs at least a kindergarten. But how? For the ground of the existing school another use is already planned - but we have got enough land, said Guy Pickering. Bricks can be self-produced, other materials procured if not available from the farm. But we need manpower being proactive what cannot be expected from the villagers - and so finally the idea of volunteering emerged.